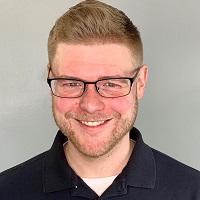 Email:

bjkill@iu.edu
Major:

M.S. in Statistical Science
B.S. Actuarial Science, B.S. Applied Statistics, minor in Management from Purdue University.

My interests lie everywhere. I am simply fascinated by the world around me, and I have this burning desire to understand how it works. Nearly everything – the way atoms form, the way blood vessels branch, the way corporations live and die, the way we personally connect with other humans, and so much more – can be studied, quantified, and understood. Having the tools to analyze truly complex systems will allow me to help find answers to nearly any question, and expanding my analytic toolbelt is exactly why I chose to get a Masters in Statistical Sciences here at IU.

In my free time, I enjoy watching Nova and other science-y shows as well as reading non-fiction books on physics, anthropology, government, economics, finance, and yes, even math and statistics! I also like going out with friends to trivia nights, hiking with my girlfriend and dog through Indiana's many diverse state parks, hanging out with my "framily" (friends so close that they are family), watching college sports, playing the drums, and probably most stereotypically, binging on adult cartoons.